Malaga enjoys an average of 330 days of sun each year with an average temperature of 22°C. The sea temperature, at an average of 18°C rising to 24°C in August, allows for the enjoyment of watersports throughout the year.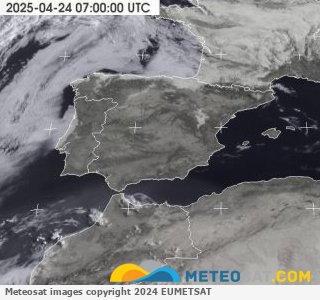 Satellite map Malaga
Here is the weather forecast for all Spain. Pick on the list bellow, and select the province that you want to verify.
Average temperatures of Malaga:
| JAN | FEB | MAR | APR | MAI | JUN | JUL | AUG | SEP | OCT | NOV | DEC |
| --- | --- | --- | --- | --- | --- | --- | --- | --- | --- | --- | --- |
| 16 | 17 | 19 | 21 | 24 | 28 | 30 | 30 | 28 | 24 | 20 | 17 |